BOSSKOK SUSHI&WOK © Copyright 2014-2112 - Amagerbrogade 118 st.tv. - 2300 KBH S - Tlf.: 93 93 98 93//
SMS.: 93 93 98 93
- E-mail: info@bosskok.dk eller bosskok@outlook.com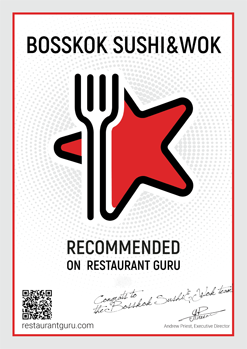 (Når du ikke kan komme igennem vores opkald, er det fordi vi besvarer kundernes ordrer, så vær venlig at ringe igen senere. Tak for din forståelse og support.
)
Ekstra åbningstider
(Only SMS)
:
Mandag
- Søndag:
11:00-21:00
(Every day from

Kl.11 to Kl.21

, you can place an order by text message. When the order is confirmed, you can pick it up in our store or deliver it to your door.)
(Hver dag fra

Kl.11 til Kl.21

kan du afgive en ordre via sms.

Når ordren er bekræftet, kan du hente den i butikken eller levere den til din dør.

)
Fx: My name is Tomas, I would like to order:
1 x 3stk No.76 Laks Nigiri
2 x 6stk No.81 Tigerreje Nigiri
1 x 5stk No.25 Crispy tigerreje
1 x No.93 Karrylover med kylling
Pick up
Kl.13
and 2people.
Send your order SMS to
93 93 98 93
(If you do not get a timely response, it proves that we are very busy and hope you can understand, thanks alot!)
SMS Delivery service:
Start Tariff: 49kr.
(Including 1.5Km, after 35kr./Km)
Distance according to Google Maps
Starttakst: 49kr.
(Inkl. 1,5 km, efter 35 kr./Km)
Afstand i henhold til Google Maps
and waiting for SMS reply...
Afhent eller leveret?/
Picked up or delivered?
Jeg ønsker leveret (+49kr.Starttakst) /
I want delivered
(+49kr.Start Tariff)
Jeg afhenter selv (Gratis) /
I pick up myself (For free)
To your door/Til din dør
The delivery fee is calculated based
-distance/time spent, driver and car expenses.
-on the comprehensive
calculation of