BOSSKOK SUSHI&WOK © Copyright 2014-2034 - Amagerbrogade 118 st.tv. - 2300 KBH S - Tlf.: 93 93 98 93//
SMS.: 93 93 98 93
- E-mail: info@bosskok.dk eller bosskok@outlook.com
In order to ensure the freshness of sushi, we will start to make your sushi after confirming your order, because we only cook 1-2 pot of sushi rice every day. If our sushi is sold out, our restaurant will be closed early!
Only 1% of sushi restaurants in Denmark can do this. Our sushi restaurants belong to this 1%,
This is why sometimes you wait a long time!
We refuse to prepare sushi in advance,Sushi was made "N" hours ago is unhealthy!!!
During the busy time, because our sushi was sold out, many customers did not order sushi, make us feel so sorry. We hope you can make a reservation 1-2 hours in advance next time. The order for dinner can start at kl.11 am by SMS or Email accept the reservation! (SMS.93939893/Email:bosskok@outlook.com)
THREE-point guarantee:

No.1, Our professional chef has more than 10 years of full-time experience

in Japanese restaurants

.
No.2, Our sushi ingredients we use are the best, such as the best GMO FREE "锦" sushi rice, fish are certified!
No.3,

Our food is rationed daily, just for you to taste the freshest and healthiest Japanese cuisine.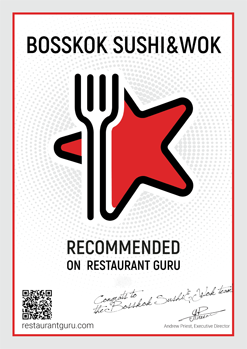 Idéen med sushi stammer fra en gammel kinesisk tradition, hvor man konserverede rå fisk ved at lagre det i ris.
Oprindeligt kommer denne tradition fra Tang Dynastiet i Kina, men senere blev blandingen af rå fisk
Der er dog kolossale forskelle mellem det, det oprindeligt var i Kina, og det man udviklede det til i Japan.
Den største forskel var, at man i Kina udelukkende brugte risen til opbevaring og konservering af fisken,
og spiste dermed kun den rå fisk.
I Muromachi-perioden, 1336-1573, begyndte man at blande eddike i risen,
På samme tid valgte man, i forbindelse med tilsættelsen af eddike, at springe konserveringsprocessen over, og blot tilberede retten direkte vha. eddike.
De efterfølgende århundreder blev brugt på at udvikle vore dages sushi fremstillingsteknikker, hvor der gøres brug af rismåtter.
I midten af 1800-tallet kom sushi endeligt til Japans hovedstad, Tokyo, hvor retten i vid udstrækning blev betragtet som en meget billig ret
og ris adopteret af japanerne.
og dermed opnåede stor popularitet.
hvilket resulterede i den velkendte syrlige smag af sushiris.